Featured Posts
North Korea threatens retaliation in event of interception
March 12, 2009 at 7:22 PM
plans to launch satellite .. hope to heck there is not a nuclear warhead on that satellite... they are sounding awfully defensive and aggressive...
N. Korea informs of satellite launch plans
SEOUL, South Korea (CNN) -- North Korea has informed an international organization of plans to launch a satellite, the South Korean government told CNN Thursday.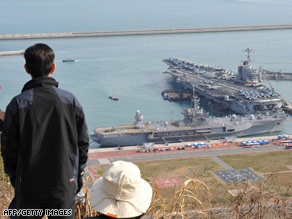 South Koreans look at the USS John C. Stennis and the USS Blue Ridge in Busan Wednesday.
The communist nation had notified the International Maritime Organization of its plans, said South Korean Ministry of Land and Transport, which did not say when the launch was scheduled to happen.
But Yonhap, South Korea's state-sponsored news agency, said it was slated for April 4 to 8, attributing the information to an intelligence official it did not name.
U.S. and South Korean officials have long said the communist nation is actually preparing to test-fire a long-range missile under the guise of a satellite launch.
http://www.cnn.com/2009/WORLD/asiapcf/03/12/nkorea.launch/index.html
Replies