Jason Aldean & Jessica Ussery's Marriage Is 'Fine'
November 16, 2012 at 7:31 AM
Jason Aldean & Jessica Ussery's Marriage Is 'Fine' After Photo Scandal
By Maggie Coughlan
11/15/2012 at 04:35 PM EST
Thanks for liking this article. Like PEOPLE on Facebook for breaking news, celebrity pictures, exclusive deals and more!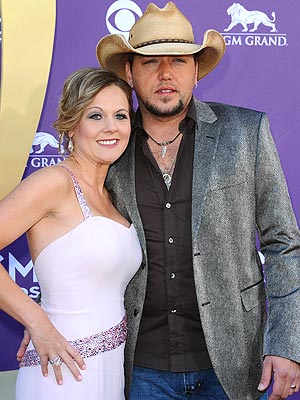 Jessica Ussery and Jason Aldean
Bauer-Griffin
Jason Aldean
and his wife Jessica Ussery presented a united front on Thursday as they addressed
photographs
of the singer cozying up to season 11
American Idol
contestant Brittany Kerr that surfaced more than a month ago.
Appearing on the
CBS This Morning
, the "My Kinda Party" singer - who has addressed the scandal previously on his own - sat beside his wife of 11 years and said they are doing "fine" as a couple.
"I think we're fine, you know? I think anytime you go through anything like that, it's tough. We've been together for a long time and been through a lot of things together," Aldean, 35, said of Ussery, his high school sweetheart.
"Those are things that most people get to deal with in private, we didn't have the luxury of doing that."
He continued: "Go ask any couple that's been married for 30, 40, 50 years..."
"I would love to hear their story," Ussery chimed in.
"I can guarantee it hadn't always been roses," he said.
Aldean and Ussery are parents to daughters, Keeley, 9, and Kendyl, 5.
Following the photo scandal, Aldean
issued an apology
to his fans
via Twitter
.
"The truth is that I screwed up," he wrote at the time. "I had too much to drink, let the party get out of hand and acted inappropriately at a bar. I left alone, caught the bus to our next show and that's the end of the story. I ultimately ended up embarrassing my family and myself."
Replies