Bizarre Brain Pate
October 9, 2012 at 1:26 PM
Something Fun for Halloween!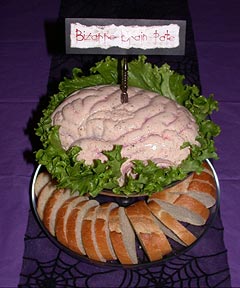 Bizarre Brain Pate
(featured inside the book Eerie Elegance)

1 (10 3/4-ounce) can cream of mushroom soup
8 ounces Philadelphia cream cheese, softened
1 (.25-ounce) envelope unflavored gelatin, softened in 1/4 cup water
1 bunch green onions, chopped
3 pounds cooked shrimp, coarsely chopped
(or 1 pound crab meat)
1 cup mayonnaise
1 Tablespoon lemon juice
Tabasco or creole seasoning to taste

Heat soup, undiluted, and mix in the cream cheese. Stir in softened gelatin and blend well. Fold in remaining ingredients and pour into a lightly-oiled mold. Chill until firm and serve with your favorite crackers.

I originally found this recipe for MardiGras 2000, which was quite yummy. When I got a brain mold for my birthday - can you tell my friends know I love Halloween? - I started thinking of what I could use for making a brain. Since the brain mold is only about 3 cups, I halved this recipe except for the amount of gelatin, left out the green onions, and finely chopped the shrimp in a food processor into more of a paste for the sake of making it look more smooth-textured like a real brain.
Replies
October 10, 2012 at 12:23 PM

October 10, 2012 at 12:25 PM

October 10, 2012 at 12:27 PM

My sister makes her Halloween brains with a piping bag. Love the mold look though.

October 12, 2012 at 6:43 PM

I've also got a brain mold, but I use mine for jello. I do the Jello where you add the hot water, then instead of cold water, I add 2x the ice cream as water. And, even though I made it, and know it's not really a brain, I have a hard time eating it... because it just looks gross. But, my kids and hubby clambor for it, it wouldn't be Halloween without it.