Do you think of this as rape of a child?
December 9, 2012 at 11:22 PM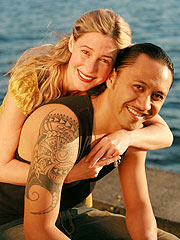 INFORMATION FROM WIKI
Mary Kay Fualaau (née Schmitz; born January 30, 1962), formerly known as Mary Kay Letourneau, is an American schoolteacher who was imprisoned from 1997 to 2004 for having sexual intercourse with her 13-year-old student, Vili Fualaau. She gave birth to two of Fualaau's children while incarcerated. After her release from prison in 2004, Letourneau married Fualaau and took his name.
Letourneau first met Vili Fualaau when he was a student in her second-grade class at Shorewood Elementary School in Burien, Washington;[25] she later taught a sixth-grade class in which Fualaau was a student. Letourneau began an intimate relationship with 12-year-old Fualaau,[26] and at 35 Letourneau became pregnant with Fualaau's child.[25] Letourneau was subsequently arrested, convicted and imprisoned for statutory "second degree rape of a child".[19]
Letourneau gave birth to two children with Fualaau, giving her a total of six children. Her first daughter with Fualaau, Audrey, was born in May 1997 while Letourneau was out of jail on bail. Daughter Georgia Alexis was conceived while Letourneau was on probation, and was born in October 1998 while Letourneau was incarcerated.
After Letourneau's release from prison in 2004, Fualaau, then age 21, filed a motion in court, requesting a reversal of the no-contact order against Letourneau.[17] A few days later the request was granted.[27] Letourneau and Fualaau were married on May 20, 2005 in the Seattle suburb of Woodinville in a ceremony at the Columbia Winery.[2] Exclusive access to the wedding was given to the television show, Entertainment Tonight[2] and photographs were released through other media outlets. Letourneau has said that she would like to have another child and return to the teaching profession[28] and indicated that by law she is permitted to teach at private schools and community colleges.[28]
Since their marriage, Mary Kay and Vili Fualaau have hosted three "Hot for Teacher Night" promotions at a Seattle night club with Vili serving as the disc jockey and Mary Kay as host.[29][30][31][32]
During an Inside Edition interview Fualaau said, "I'm not a victim. I'm not ashamed of being a father. I'm not ashamed of being in love with Mary Kay."[33] Attorney Anne Bremner, who met Letourneau in 2002 during Fualaau's civil suit, said that Letourneau considered her affair with Fualaau to be "eternal and endless." According to Bremner, "Nothing could have kept the two of them apart."[17]
Letourneau and Fualaau co-authored a book about their relationship, which was published in France as Only One Crime, Love (French: Un seul crime, l'amour). It has never been published in the United States.
Replies
December 11, 2012 at 2:37 AM

If it was a mae teacher NO ONE would question whether this was rape or not but truth is all teenagers are hornballs male and female.......... there both wrong

December 11, 2012 at 2:45 AM

December 11, 2012 at 2:55 AM

As someone who works with kids this age, I would 100% consider it rape. To me, outside of age, one of the biggest issues is the abuse of power. She was his teacher, children are conditioned/required/expected to listen to their teachers and IMO, she abused that power.

Honestly, thinking about something like this happening to one of my 6th/7th graders makes me throw up in my mouth a little. I couldn't care less that they tied it up this mess with a cute little marriage bow. To me, not waiting to have a relationship with an individual who is developmentally on the same playing field as you shows that there are some serious issues going on, and she kicked some dirt over it and called it love.

Even if they are a match made by the gods, deeply in love and totally compatable, there still should be a little alarm that goes off in your head - her alarm didn't sound, she didn't have the desire or ability to be the adult and step back from the relationship, she knew it was "wrong" and yeah. I see it as rape.

December 11, 2012 at 6:41 AM

She could have waited until he was legal.

December 11, 2012 at 7:08 AM

This woman was nothing more than a psychologist who has an affair with a patient. She used her power and authority over this kid and now, it's evident even more that it continues on. He may have married her, but, think about how long she's been doing this with him. His mind has totally been turned towards her.

December 11, 2012 at 2:14 PM

agree.

Quoting Anonymous:



He was a CHILD when they began their "relationship" and that is NOT OKAY. If a man Laternou's age impregnated one of his student's at Fualaau's age, he would still be being ripped to shreds in every media outlet instead of their relationship as teo adults being accepted.

December 11, 2012 at 9:21 PM

Absolutely. Now they have children and will have to explain that to them one day . They continue to exploit themselves to make ends meet and will no doubt subject their children to things they shouldn't be exposed to thus continuing the cycle and furthering the need for possible psychological intervention/monitoring.