Placenta Pill Makers Turn Afterbirth Into Nutritional Supplement For New Moms
July 26, 2011 at 8:20 AM
Placenta Pill Makers Turn Afterbirth Into Nutritional Supplement For New Moms (EXCLUSIVE VIDEO)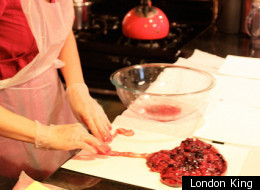 Lisa Fortin, of Brooklyn, N.Y., makes pills from placentas for new mothers to get over the baby blues.
Lisa Fortin is one of the rare people who makes a living by cooking, but never actually tastes what's in her pot.
That's because Fortin, the founder of Placenta Healing Arts in Brooklyn, is part of a small, but growing profession that cooks placentas for new moms and makes them into pills that allegedly stave off postpartum depression, provide an energy boost and enhance milk production.
"It's definitely a different scent," said Fortin about the aroma given off by a steaming pot filled with a placenta, frankincense, myrrh, ginger and lemon. "It's not something you smelled before. It's not something you think smells bad, but it's a little bit foreign."
After about 25 minutes on medium heat, she takes out the afterbirth, slices it with a big blade and arranges the pieces on her jerky maker, where they'll dry for 10 hours at 105 degrees.
Then, Fortin pulverizes the chunks in a coffee grinder. The powder fills about 100 capsules that the new mother takes over several weeks.
Almost all of her equipment comes from the kitchen cabinet instead of a medical office.
There aren't clinical trials to back up Fortin and her fellow placenta encapsulation specialists, as they like to be called. But the capsules have their roots in Chinese medicine and the animal kingdom where most mammals, except camels and sea mammals, eat their placenta after giving birth.
Replies