Chess or Bowling?
October 13, 2012 at 12:21 PM
Today Oct 13th is both:
National Chess Day
And also:
National Family Bowling Day (or kids bowl free day) /Call and check with your local bowling area to see if they offer free bowling for your kids today/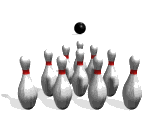 Do you or anyone in your family play chess or bowl?
Replies
October 13, 2012 at 12:25 PM

October 13, 2012 at 12:38 PM

My brother bowls and my dh subs for him sometimes.

October 13, 2012 at 12:39 PM

We all play Chess & I used to be the Youth Director and junior bowling league coach at a bowling alley.

October 13, 2012 at 12:40 PM

I like to bowl. I do not know how to play chess but DH does.

October 13, 2012 at 12:46 PM

My boys are currently in the chess team at their school (my daughter used to be before changing schools). I have a couple of chess trophies from the 80s. My husband and I occasionally set up a game and play it as we have time.

We bowl together a few times a year just for fun. During the winter we have some pretty fierce wii bowling tournaments during family game nights.

October 13, 2012 at 12:51 PM

In the beginning of DH and I's marriage we use to have chess matches..best out of 3. Haha. Haven't played chess in a while since our last one we had broke (it was glass..but that fake glass stuff not that expensive glass). We love bowling too. Both is fun!

October 13, 2012 at 7:20 PM

My husband use to take our kids bowling once in awhile for a family actiivity when they were growing up, but we havent done that in quite awhile since they grew up. We should probably do that again soon (winter would be a good time good indoor activity in bad weather)

I have never played chess before but my husband loves it. He likes to play it online against other people or against the computer. He use to play at lunchtime with his one of his previous bosses before that place closed down. His boss played in tournaments so Todd would be pretty excited when he could actually beat him once in awhile.