Obesity is YOUR fault!
January 15, 2013 at 7:51 PM
. . .says the new Coke ad.
Jan 15 2013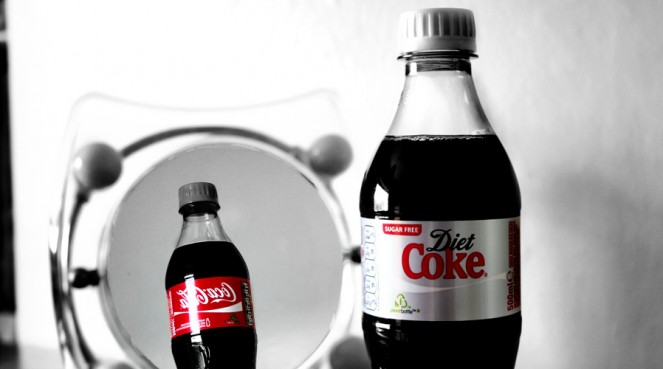 photo credit: Laura Lewis
By Blake Buford
Coca-Cola just launched a multi-million dollar PR campaign to convince Americans that soft drinks have nothing to do with the nation's obesity epidemic.
In a new commercial airing nationwide, a reassuring voice tells viewers that Coke now places calorie counts on drinks, offers smaller sizes, and features more "diet" options than ever.
But the ad never mentions the pile of evidence directly linking soft drinks to obesity, diabetes, heart disease, and other major health issues. It also ignores studies that show people who drink diet soda have an even greater chance of becoming overweight than regular soda drinkers, and data that links artificial sweeteners like aspartame to cancer. But most impressively, the narrator manages to tap dance through the two-minute ad without saying the word "sugar" or mentioning the company's favorite ingredient: high-fructose corn syrup.
At the end of the ad, the narrator says, "The well-being of our families and communities concerns everyone, and finding a solution will take continued effort from all of us. But at Coca-Cola, we know when people come together, we can make a real difference."
The company knows that is true from experience. The full commercial is below. Enjoy!
Replies
January 19, 2013 at 6:32 PM

I think it's pretty accurate, in the same way McD's response to Fast Food Nation is:

Who ever said this party/special occasion/convenience food was supposed to make up the bulk of your diet?

January 19, 2013 at 6:43 PM

I agree. These types of drinks weren't meant to take the place of water and healthy liquids, but people over indulge and then blame the company. Just like the people who blame McDonald's for making them fat.

My grandpa used to tell me that when he was a kid having a Coke or "pop" was a special treat- not a staple item.

Quoting Mom2Phoenix2011:



They are right. We as people have the choice as to what we drink. They do not force us to purchase their products. They do not force us to drink a whole six pack or two liter bottle in a day. People need to stop blaming their weight issues on products and start blaming themselves for their over indulging. This coming from a person with weight issues who stopped drinking soda.