I just don't think I could do this to a poor Peep!
March 27, 2012 at 9:40 AM
I don't think I could impale and then char a poor Peep in an attempt to make a s'more.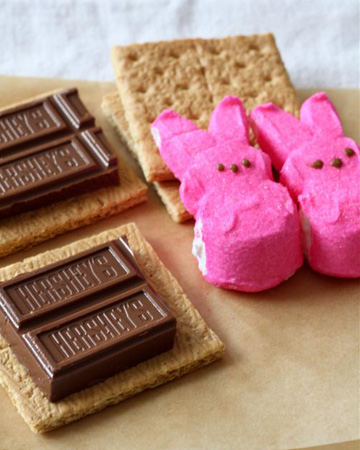 Replies
March 28, 2012 at 9:38 AM

March 28, 2012 at 1:27 PM

They don't toast up the same as a regular marshmallow so it makes the whole thing just not quite the same. At least according to my kids who thought of this last year and just insisted they had to put their peeps in the fire lol. I don't eat s'mores because I can't eat chocolate but my kids didn't like them at all with the peeps. It's still a cute idea though.

March 28, 2012 at 1:33 PM

March 28, 2012 at 1:35 PM

Thanks for posting this! I probably won't make it this year though since DD just got her expander put on and Peeps are a big no-no!


Quoting AllieJ11:



Quoting Felicity532:




Chocolate and Peeps Pie

Ingredients:
1 1/2 cups graham crackers, crushed
2 tablespoons granulated sugar
6 tablespoons unsalted butter, melted
2 full packages of Peeps, 30 Peeps total (your choice of color), plus additional for garnish
1/3 cup hot milk
1 1/2 cups heavy whipping cream
1/4 teaspoon brandy
2 ounces semisweet chocolate, cut into small chunks and chilled in freezer (or two toffee bars chopped into bite-size pieces)

Directions:
1. Preheat oven to 350 degrees. Pulse graham crackers in a food processor until fine.
2. Mix butter, sugar and crushed graham crackers in a bowl. Press mixture evenly into the sides and bottom of a 9-inch pie plate.
3. Bake crust for 7 minutes until golden. Allow to cool to room temperature. (Crust can be made a day or two in advance and kept fresh in the refrigerator.)
4. Using a double boiler, stir in hot milk and Peeps until fully melted and uniform in color. Allow to cool to room temperature, 7-10 minutes. Do not allow mixture to stiffen.
5. Whip cream to stiff peaks using a hand blender or kitchen mixer. Add brandy during mixing.
6. Using large rubber spatula, fold whipped cream and chocolate pieces into the Peeps mixture. Make sure all of the ingredients are thoroughly incorporated.
7. Pour into graham cracker pie shell and refrigerate several hours or overnight.
8. Garnish with green coconut, whole Peeps and/or more chocolate pieces.

I use store bought graham cracker crust and I substitute some vanilla extract for the brandy.




March 28, 2012 at 1:37 PM

OMG i like to light them up light a marshmellow over a campfire....Sooooo good they get a crisp sugar crust and have the ooey gooey marshmallow center....Its the only way ill eat peeps

March 29, 2012 at 12:00 AM

March 29, 2012 at 10:15 AM

Thats funny! I couldnt do it either!